Strictly comply with IATF16949 system and take full use of APQP/PPAP/FEMA/SPC/MSA tools to realize the strict quality control.
  1. Strict All Process Inspection
  Raw Material Inspection
  We will inspect the incoming materials according to the incoming material inspection standards. Only qualified materials are allowed to enter into warehouse. In order to ensure the incoming materials qualified, we will use advanced spectrometer to detect the ingredients, for some special material, we have auxiliary equipment i.e, sulfur analyzer to support the analysis of carbon and sulfur composition.
  Incoming materials Inspection Flow Chart
  Inspection - Paint Color - Making Identification Card - Storage

  Production Process Inspection
  Operator will comply with the SOP and work instructions to operate and check parts during his step, meanwhile, monitoring and analyzing the result of the check. Lab center and measurement center will carry out the related test and measurements according to the work instruction. We strictly follow the below procedures to avoid any defective parts transfer to next procedure: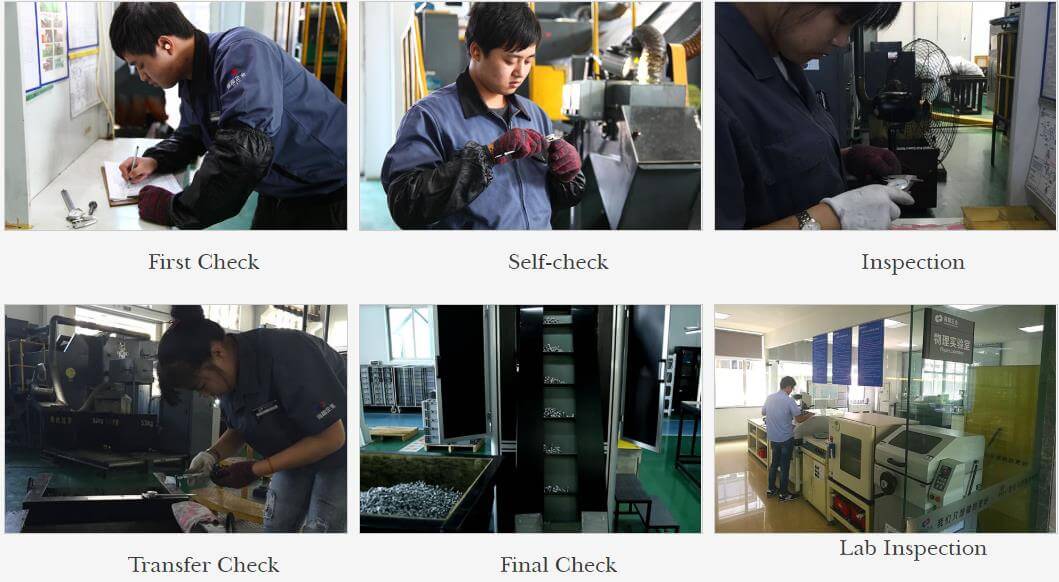 Lab Inspection
  Our lab can carry out over 20 kinds of tests and experiments. We have all kinds of testing equipment to inspect and test fasteners, to meet the various mechanical properties, physical and chemical testings. The detailed tests are shown as below:
  1) Mechanical-Technical Testing
  Tensile strength, yield strength and other tests, the maximum test force up to 300 kN.
  Fatigue test: dynamic load ± 200kN, static load ± 240KN.
  Multi-function thread analysis system: friction coefficient: 0~1000Nm2,
  Hardness testing: Brinell hardness, Rockwell hardness, Webster hardness.
  Screw thread test: failure torque, rotation angle, axial force.
  Structure test: metallographic test.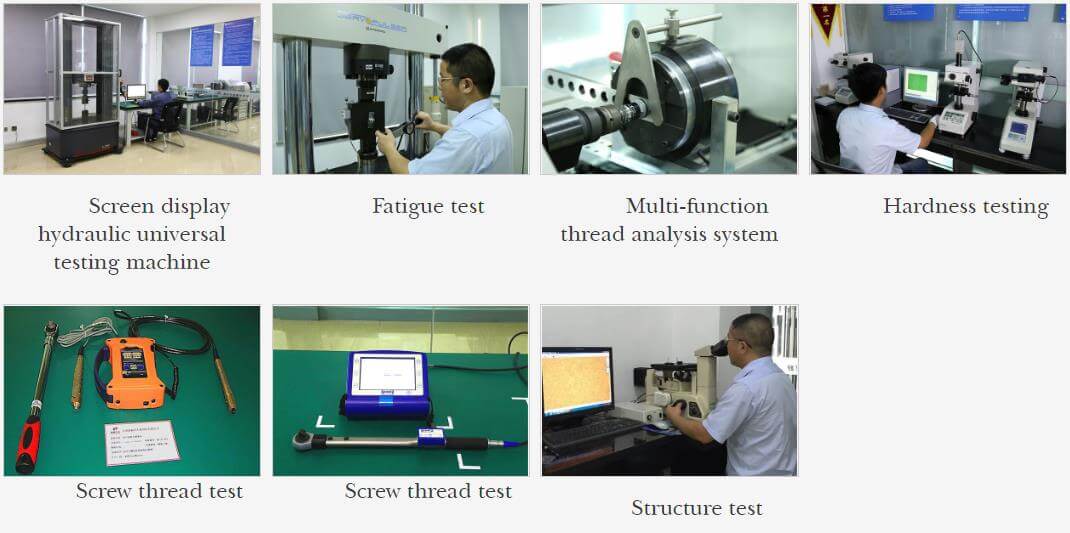 2) Physical Tests
  Coating thickness measurement - X-ray fluorescence analysis. Equipment Name: Fischer coating thickness gauge
  Metal composition analysis: Bruker spectrometer and carbon sulfur analyzer to analyses the components of the raw materials.
  Sealing tests: sealing of pre-applied adhesive
  Image test: measuring point, line, circle, solitary, ellipse, rectangle, improve measurement accuracy; Equipment name: image measuring instrument
  Three coordinate measuring instrument: to detect and analyze the shape and position tolerance of high precision and complex fasteners;
  Simulation fastener assembly test and analysis system: It is supplied by German SCHATZ, It is used to carry out the test of the relationship between torque and rotation angle,friction coefficient, ect, which assists customers in the selection of tightening tools and optimizes the tightening process. Meanwhile,the tightening process can be used to simulate the tightening test on an actual situation to ensure the reliability of the assembly.
  Cleanliness testing:
  JOMESA HFD is used for cleanliness analysis of products. Both Qualitative and quantitative analysis analysis o f pa rticulate matter such as metals, nonmetals and fibers. Its measurement accuracy can reach 2.5 microns.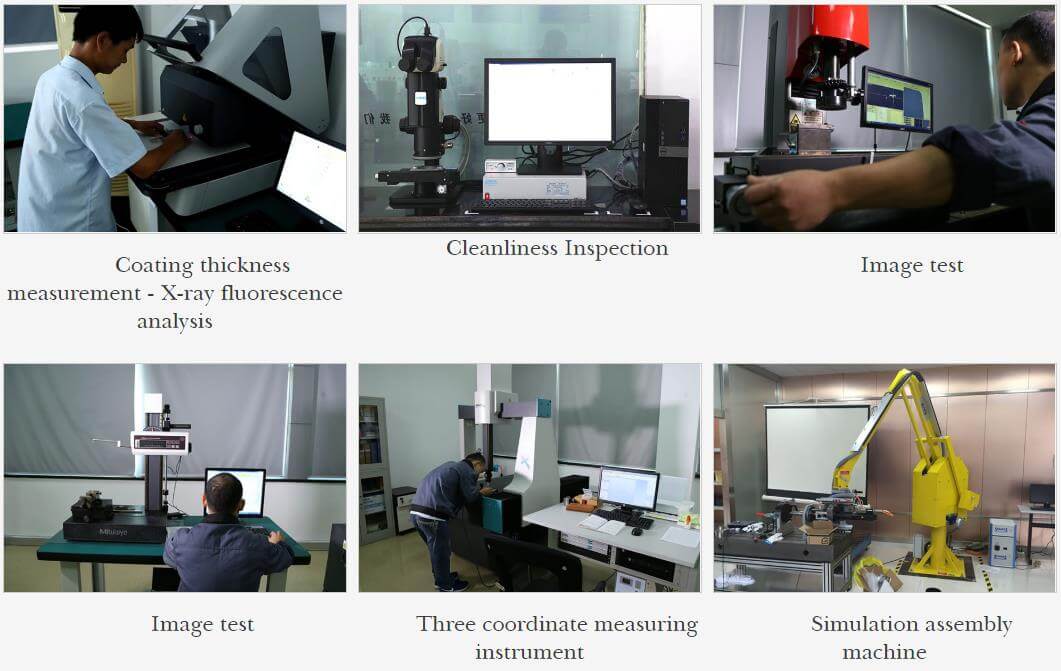 3) Chemical Testing
  Corrosion testing (salt spray mist: NSS,CASS)

  Finished Product Inspection
  Our parts will be carried out 100% appearance inspection via full automatic screening machine. We have 6 sets of automatic screening machines to inspect most of our parts, which largely improve the work efficiency and reliable test results.
  2. Lean Production Cost Management
  We introduced Toyota lean production management mode to realize standardized management of the production site as well as control the production cost. Sustainable production and continuously improve the competitiveness is our final aim.
  Production Site Management
  Management the site by control of the five elements: human, machine, material, method and environment.
  Human
  We employ qualified and experienced staff, job training, internal training and external training, skill competitions to ensure and improve the staff skill. Meanwhile pay attention to the staff quality concern and job responsibility.

  Machine
  Our production and inspection facilities will be carried out regular inspection, acceptance, maintenance and repair, so as to ensure the continuous supply and reduce occurrence of unexpected situation.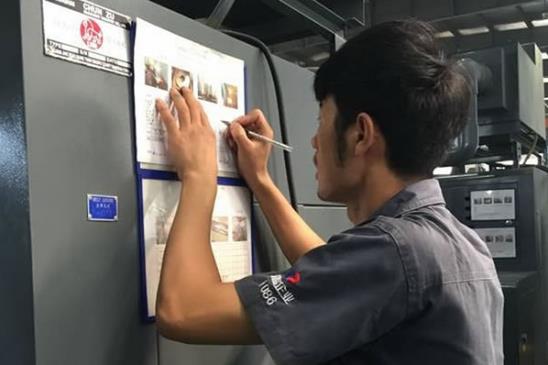 Material
  The raw materials, accessories and die supply are sourced from qualified suppliers, and manage under the spirits of PPAP, so as to ensure the in-coming materials are controllable in all the production stage. Keeping a reasonable inventory of in-coming materials ensures the sustainability of production and reduce inventory, and reduces occurrence of emergencies.

  Methods
  Our production and its inspection processes are carried out by complying with standard operating procedures and work instructions, which makes the skilled staff work in accordance with the requirements of the job, when necessary, they can exchange the position. The standardization and sustainability of production are achieved.
  Environment
  Our work environment is carried out according to the 5S standard. A clean and orderly environment makes employees feel more dedication, improve work efficiency and ensure the quality of products.